Finn Metal Furniture Black Dining Chair (Pair)
Full description
Was
£261.29
(inc. VAT)
From
Now
£200.99
(inc. VAT)
£167.49
(ex. VAT)
Item Specifics
Assembly:
Assembly Required
Finn Metal Furniture Black Dining Chair (Pair)
Full description
Was
£261.29
(inc. VAT)
From
Now
£200.99
(inc. VAT)
£167.49
(ex. VAT)
Standard Delivery
12th - 14th December 2023
Delivery Upgrades
Removal of Old Furniture (POA)
Description
Finn Metal Furniture Black Dining Chair (Pair)
Finn metal furniture dining chair an ideal choice for bringing vintage inspired style to your dining room or kitchen
Constructed with sturdy metal in a glossy black powder coated finish with a cross brace underneath for added stability and support
This set of 2 chairs are light weight, stackable for easy storage and provided with protective foot caps to prevent floor damage,
Simple assembly required - all tools and fittings are provided
Other matching Items in the Finn Metal Furniture range available
---
Finn Metal Furniture range has stunning features and beautiful collection of dining chairs , the features are enchaned with stury metal and glossy powder coated finish. Perfect to add comfort and style to your dining room and kitchen . You can alos shop quality fruniture for the Bedroom, living room, and home office, we have a unique collections of coffee tables, bookcases, dining tables, sideboards, lamp tables, TV cabinets and more.
Details
Brand: Dorel
Product Code: C009001UK
Availability: 51
Delivery Upgrades: Removal of Old Furniture (POA)
Delivery
STANDARD DELIVERY
We aim to deliver all in-stock items* in 10 to 20 working days**. If there is a delay we will notify you as soon as possible.
We are currently experiencing very high demand for garden furniture and because of this, we are unable to offer any updates to your order until the goods are with the delivery company, usually 10 working days after ordering.
All orders will be delivered in the stated lead times and please only contact us if there is an issue with your order.
Our delivery company will contact you to arrange a delivery date and time, standard deliveries are delivered Monday to Friday only. To ensure the delivery team can contact you please add a mobile and landline number to your order. The standard delivery is a one-man delivery to the ground floor only. If you require a delivery to the room of your choice please select the Delivery Plus option in the checkout.
Our couriers aim to book in 2-3 days prior to delivery so you will always know when your goods will arrive. The delivery slots do depend on when the delivery company is in your area and most areas are serviced once a week. If the slot offered is not suitable the delivery company will contact you again with an alternative slot, usually within 7 days of the first slot.
If you have purchased garden furniture the standard delivery can arrive on a curbside pallet and the driver will not bring the furniture on to the property. If you need help with the delivery please ensure you select the Delivery Plus service.
** Deliveries to Surcharge areas, details below, and below ranges, can take between 3 to 5 weeks.
Adding Delivery Super Plus on garden furniture will extend the products lead time to 3-5 weeks, due to the specialist nature of this service.
---
DELIVERY PLUS
As above but also includes; a two-man delivery service, they will carry each item into the room of choice, up the stairs etc. Please notify us if you prefer this service and we can quote you the price. All orders over £2500* are automatically upgraded free of charge to two man delivery.
---
DELIVERY SUPER PLUS
As above Delivery Plus but also includes assembly of the items. We will not only assemble the items, but will also position the item(s) into the room of choice and take away the packaging. Please notify us if you prefer this service and we can quote you the price. Please note that adding Delivery Super Plus on garden furniture will extend the products lead time to 3-5 weeks, due to the specialist nature of this service.
---
PREMIUM DELIVERY
We are now able to offer premium next day delivery on some of the ranges. Minimum spend required, please contact us on 01235 834831 and we can discuss in detail.
Please confirm which delivery option your prefer at the checkout and we can quote you the price.
---
DELIVERY SURCHARGES
All items delivered free (to most of the UK Mainland) in selected areas some postcodes will incur a surcharge. This charge is to cover overnight stays for the delivery teams, who are based in the south of England. Standard Delivery to surcharge zones is 3 to 5 weeks.
For the following postcodes;-
IV, DD, PH, AB, KW, EH, DG, FK, G, KA 1-26, 29, 30, KY, ML, PA 1-19, TD, LL, LD, SY16-20, 23-25, SA, CF, NP, Isle of Man, Isle of Wight, Channel Islands and Scottish Isles an additional charge will apply. If you do live in any of these areas please contact us for a quote.
We do not currently deliver to Northern Ireland due to the amount of time it is taking for orders to be delivered and the cost to both us and our customers. We do offer delivery to a mainland port free of charge, from where you can arrange collection from the English Port to the NI port and delivery from the NI port onwards. Please contact our customer service team to discuss this.
---
INTERNATIONAL SHIPPING
We are currently not shipping internationally.
RETURNS
At Oak Furniture House we offer you 28 Day Money Back Guarantee on all your purchases for extra piece of mind. You have the statutory right to return any products you have purchased within twenty-eight (28) days after the delivery for any reason (including if you simply change your mind).
To do so you must notify us in writing or another durable medium (including email) within those twenty-eight (28) days. You will then be entitled to a refund from us, which will be paid within seven (7) days of the return of the product(s).
Please keep the products purchased in the same condition that they were received and retain the original packaging in the condition it was provided and delivered to you.
Except where your products are faulty or damaged, You will have to bear the direct cost of returning any products to us. Please return the products to Oak Furniture House, Unit 2, H4 Building, Milton Road, Didcot, OX11 7HH. If you would like us to collect the products from you, then you agree that we may charge you the following return fees based on the size of each product to cover our direct costs:

Please note the largest item will always be considered the first item and any smaller items will make up the balance of the fees:
Large items (e.g. Sofas, Wardrobes, All Marble Dining tables) - the first item £100, subsequent large items £50 To a Maximum of £150
Medium (e.g. bookcases, desks, sideboards, chest of drawers, storage and display cabinets, dining chairs, armchairs, Wall Mirrors, cheval mirrors) - first item £50, subsequent medium items £25 to a Maximum of £100
Small items (e.g. benches, side tables, dressing table mirrors, dressing table stools, lamps, clocks, bedsides) – first item £20, subsequent small items £10 to a Maximum of £100
Due to the size Garden Furniture Sets carry a £150 collection charge.
Please refer to our Terms & Conditions for more details
After Care
Caring for Oak furniture
Avoid placing your reclaimed wood furniture too close to a heat source or in constant direct sunlight.
To avoid marking the surface, do not place hot objects such as pans and cups directly on the surface.
Avoid ring marks by using coasters and mats where needed. Should you spill any liquids onto the surface be sure to wipe them up thoroughly immediately.
Where the Oak furniture is oiled finished, then a fresh court of Danish oil every 6 months will make sure your furniture looks great. Apply the oil using a lint-free cloth.
For waxed or lacquered products, a fresh coating of wax, ideally every 12 to 16 weeks, is all that is required. On a clean dust-free surface and using a lint-free cloth, apply the wax generously, firstly in a circular motion then finish off following the grain, removing any excess.
Garden Furniture Care
To clean your Rattan garden furniture, a pressure washer or jet wash on a wide spray can be used at a distance of approx 1m from the product.
Do not aim this directly at the joints of the furniture. Alternatively, it can simply be wiped down by hand.
Cushions should be stored away when not in use to prolong the life of the product. If dirtied these can be hand-washed with soapy water
Maze Rattan 5-Year Warranty
Please note that our 5-year guarantee only covers furniture for structural damage, rust, and fade in the UK. The guarantee applies to all furniture sold by Oak Furniture House, however, it does not include the glass supplied with sets or the rattan weave.
The specification of furniture is made to withstand the weather conditions in the UK, therefore may not be suitable for foreign climates. Extreme temperatures (+30oC / -5oC) may cause the rattan to contract and expand, consequently leading to damage, cracking, melting, or splitting. Should the consumer wish to move furniture outside of the UK, Oak Furniture House is not liable for any consequent damage, because of foreign weather conditions.
Oak Furniture House reserves the right to not apply the 5 Year Guarantee in cases where Oak Furniture House deems inappropriate misuse or in instances where the product/s have been tampered with by a third party. The guarantee will also not apply in instances deemed to be fair wear and tear.
You may also be interested in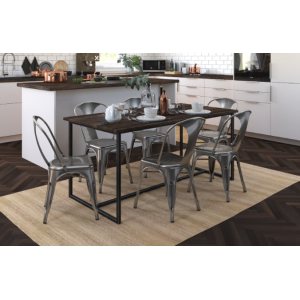 <h2>Finn Metal Furniture Grey&nbsp;Dining Chair (Pair)</h2> <ul> <li>Finn metal furniture dining chair an ideal choice for bringing vintage inspired style to your&nbsp;dining room or kitchen</li> <li>Constructed with&nbsp;sturdy metal in a glossy grey&nbsp;powder coated finish with a cross brace underneath for added stability and support</li> <li>This set of 2 chairs are light weight, stackable for easy storage and provided with protective foot caps&nbsp;to prevent floor damage,&nbsp;</li> <li>Simple assembly required - all tools and fittings are provided</li> <li>Other matching Items in the <a href="https://www.oakfurniturehouse.co.uk/Finn-Metal-Furniture-Range" target="_blank"><strong>Finn Metal&nbsp;</strong><strong>Furniture&nbsp;range</strong></a> available</li> </ul> <hr align="center" size="2" width="100%" /> <p><a href="https://www.oakfurniturehouse.co.uk/Finn-Metal-Furniture-Range" target="_blank"><strong>Finn Metal&nbsp;</strong><strong>Furniture&nbsp;range</strong></a>&nbsp;has stunning features and beautiful collection of <strong><a href="/dining-room/dining-room-chairs" target="_blank">dining chairs</a>&nbsp;, </strong>the<strong>&nbsp;</strong>features are enchaned with stury metal and glossy powder coated finish.&nbsp;Perfect to add comfort and style to your <strong><a href="/dining-room" target="_blank">dining room</a></strong>&nbsp; and <strong><a href="https://www.oakfurniturehouse.co.uk/more-rooms/kitchen-furniture" target="_blank">kitchen</a></strong> .&nbsp;You can alos shop quality fruniture for the <a href="https://www.oakfurniturehouse.co.uk/bedroom" target="_blank"><strong>Bedroom</strong></a>,&nbsp;<strong><a href="/living-room" target="_blank">living room</a></strong>, and <strong><a href="/home-office" target="_blank">home office</a></strong>, we have a unique collections of&nbsp;<strong><a href="/living-room/living-room-coffee-tables" target="_blank">coffee tables</a></strong>, <strong><a href="/living-room/living-room-bookcases-and-cabinets" target="_blank">bookcases</a></strong>, <strong><a href="/dining-room/dining-room-tables" target="_blank">dining tables</a></strong>, <strong><a href="/living-room-sideboards" target="_blank">sideboards</a>,&nbsp;<a href="/living-room/living-room-furniture/dining-room-console-and-lamp-table" target="_blank">lamp tables</a>,&nbsp;<a href="/living-room/tv-cabinets-and-stands" target="_blank">TV cabinets</a></strong> and more.</p>
Was
£237.89
(inc. VAT)
From
Now
£182.99
(inc. VAT)
£152.49
(ex. VAT)
In stock: available now