What is garden furniture?
As UK gardeners around the world look to take inspiration from popular garden trends, such as hardy exotics or modern classic garden schemes, they turn their outdoor space into an area to enjoy, or relax. Garden furniture is a key feature of modern outdoor living.
By turning our outdoor living space in our home, to an extension of our own indoor living space and tastes, we can add to the enjoyment of the great outdoors. Creating an outdoor space that allows for relaxation, socialisation and entertainment of friends and family.
"There are no gardening mistakes, only experiments" - Janet Kilburn Phillips
Garden furniture can help create key design features within our garden, enabling your green areas to become the focal point of your evenings or weekends, or provide a practical solution to seating and dining el fresco.
Creating your own individual space at home outside alongside garden furniture accessories such as cushions, BBQ's and sun parasols will ensure you can enjoy the outside all spring and summer long.
Our varied choice of outdoor furniture enables families, couples and friends to sit and eat outdoors, enjoy the garden and warmer seasons. Outdoor garden furniture is designed and manufactured from materials suitable for outside use, with commercial weather-resistant materials, and rust proof treated aluminium frames.
Does your garden have a wooden decking area or large concrete patio that is used often for summer parties, BBQ's or family entertainment, you will most likely have patio furniture made from Wrought Iron, aluminium, plastic, wicker or wood, built to last and withstand the elements.
A Brief History of Garden Furniture

All the way back in 43AD the first ever man made garden furniture was excavated in the city of Pompeii. Stones seats and benches were uncovered. Showing that ancient civilizations appreciated and aided in the enjoyment of time outside. The first garden furniture was used and engineered as far back at ancient Greek and Roman civilizations. Stone benches have been constructed for thousands of years as a practical way to converse and socialise, alongside the places of worship. Since then we continue to love and appreciate our outdoor spaces by incorporating garden furniture and garden accessories within our own garden landscape.
Since the times of Pompeii, Garden landscape design trends have continued to evolve but always incorporate use of garden furniture, and outdoor furniture pieces.
Reaching back to ancient civilizations such as the Greek and Roman empires,
Middle Ages
During the middle ages, it seems society lacked any of the consideration or desire for garden landscaping or design. The people of the middle ages seemed to see garden and outdoor entertainment as less of a concern, however it has been found that garden benches towards the end of the Middle age era had started to be created and implemented as practical seating areas around monastery gardens and churches.

Medieval
Turf benches can be seen in medieval art placed within a garden setting, with planting schemes such as herbs and wildflowers, giving us a little insight into the fact that medieval folk did enjoy the pleasure and calm of spending time in a pleasant garden space.
Victorian Gardens
The 1800's became synonymous with the British garden design. Garden design and outdoor landscaping exploded. Huge amounts of parks and gardens were created to be enjoyed by the volumes of people in need of outdoor activity space. Piers and seaside downs developed into recreational spaces to be used by all members of Victorian society. The wider use of public parts and seaside escapes created a need for garden seating and outdoor furniture. Designs included large metal benches, cast iron garden furniture volumes of manufacture to supply the parks.
Let take a look at the change in garden furniture trends
For a lot of people exterior design, and improving their gardens and open spaces, has been the overriding factor in creating a peaceful and enjoyable environment, for themselves and families. The choice of garden furniture has always been heavily influenced by garden design trends.
Let's take a look at garden furniture and design from the 1960's
The 1960's was all about mass produced, large scale manufacture of furniture items for both interior and exterior designs. Let's call this the modern design period.
A period of design enthusiasts came from young homeowners, stepping up to create the perfect on trend home of the times.
Homes and gardens became adorned with futuristic garden furniture pieces such as hanging chairs and swinging seats. Bright neon colours and fabrics full of modern patterns are synonymous with the 'swinging sixties'. Indian-inspired paisley prints adored the walls, alongside lava lamps.
This was the era of family entertainment, and large scale social events. Individuals viewed their homes and gardens as areas to express their tastes and show how they could keep up with the current trends.
Their garden furniture choices would have been collections of plastic garden chairs in bright neon colour schemes alongside garden accessories such as swinging seats and egg shaped hanging chairs and shaggy carpets.
Moving onto garden design in the 1970's
A more relaxed era for considered interior and exterior designers. Moving away from some of the brave and bright colours of the 60's.
This is the period we see wicker garden furniture come into taste and trends.
Rattan garden furniture plays a key feature in the trendy 1970s garden. Alongside flares and bell sleeves, this style of garden furniture really peaked in homes around the world.
The muted tones of brown and orange featured heavily in all garden furniture. As the party scenes of the 1970's rolled out across UK gardens, hipsters would be enjoying the sounds of popular 70s artists
1980's wildlife gardening
Colour swept gardens and alongside architectural shrubs would provide a perfect area to relax and socialise. A new appreciation of the garden and how wildlife could be attracted to enjoy left a need to choose garden furniture that would sit comfortably with the natural tones of the 1980s garden. Chris Baines brought attention to wildlife gardening when he introduced his audience to style in Chelsea 1985.
The 1980's became a time when garden furniture was predominantly made from injection moulded plastics and plastic pots became a desired garden accessory.
What types of garden furniture is there?

Corner and standard dining sets
The perfect choice for individuals with limited space within their gardens. If you are looking to reduce the room taken by a large garden set with a full garden
dining table and chairs
, a
corner set
will solve the issue of reduced room, but allow you to enjoy your outdoor hours.
Constructed from reinforced steel and iron frames, producing a resilient garden furniture set.
Built and designed for a large number of seated gatherings to entertain in mind.
Constructed to consider the weight for large groups accompanying you in your garden, and to withstand most unfavourable outdoor weather and strong winds.
Give thoughts to a
corner dining set
as your next option to replace or add to your existing garden furniture set as its robust, super study and hard wearing for years and years of use.
Our corner dining sets are also built with comfort in mind together with the addition of soft cushions and pads available in varied and diverse colours to fit your garden design and preferred fashion, adding comfort does not mean you have to compromise on style.
Each and every customer of Oak Furniture House has different requirements and ideas for their garden furniture. It is not enough to be cheap and in stock. Our Classic Dining Sets need to be of high quality, will last many years, and go beyond expectations. From Rattan Dining Sets to Wooden Dining sets, each set is designed to give the peace of mind of longevity and quality. The Classic Dining range is not just furniture, it is a way to open up any home with the space of the outdoors. If hosting is the main purpose for Classic Dining sets, opening up the garden offers a lot more space in addition to the rooms in the household.
Rattan garden furniture has been crafted for a contemporary and ultra-modern garden.
In fitting with a leading edge designed garden, the diverse selection of rattan colours are available in multiple shades of greys, beiges and creams. A neutral palate incorporated into the design of our garden rattan dining sets, takes into account gardens designed to appeal to those who aim to incorporate garden furniture into their modern ambience.
Elegant tables complement the garden sets and rattan garden stools are also available to add additional seating for visiting guests or larger families.
Consider adding a rattan reclining chair to the mix for true sophistication and relaxation.
If you garden space allows, consider adding a swinging chair for additional seating, bringing fun into the garden, hanging chairs with rattan finishes brings an elegance to an outdoor space.
When it comes to garden furniture that emanates luxury and comfort,
Garden Fabric Dining sets
are a popular choice to suit any garden style. When it comes to finding the right fabric garden dining furniture, it is important to match style and comfort with practicality. The most popular options are a set of four, this is great for an average family but does not leave much in the way of hosting. To maximise the amount of people who can enjoy the seating arrangement, the
Corner Dining Set
allows more people to enjoy the sun and relax in comfort.
Life can get away from us sometimes, and taking the time to really relax and enjoy the Sun while it is out can be put on hold. Everything can feel more important than oneself on self-care at times and it really shouldn't. Having a space for an intimate moment with a loved one, or sharing a space with friends with a few drinks is one of the best ways to decompress. So it is imperative that the Garden Dining set is tailored to meet your exact wants and needs. Speak to us now to find out how we can help choose the right furniture for you and your families.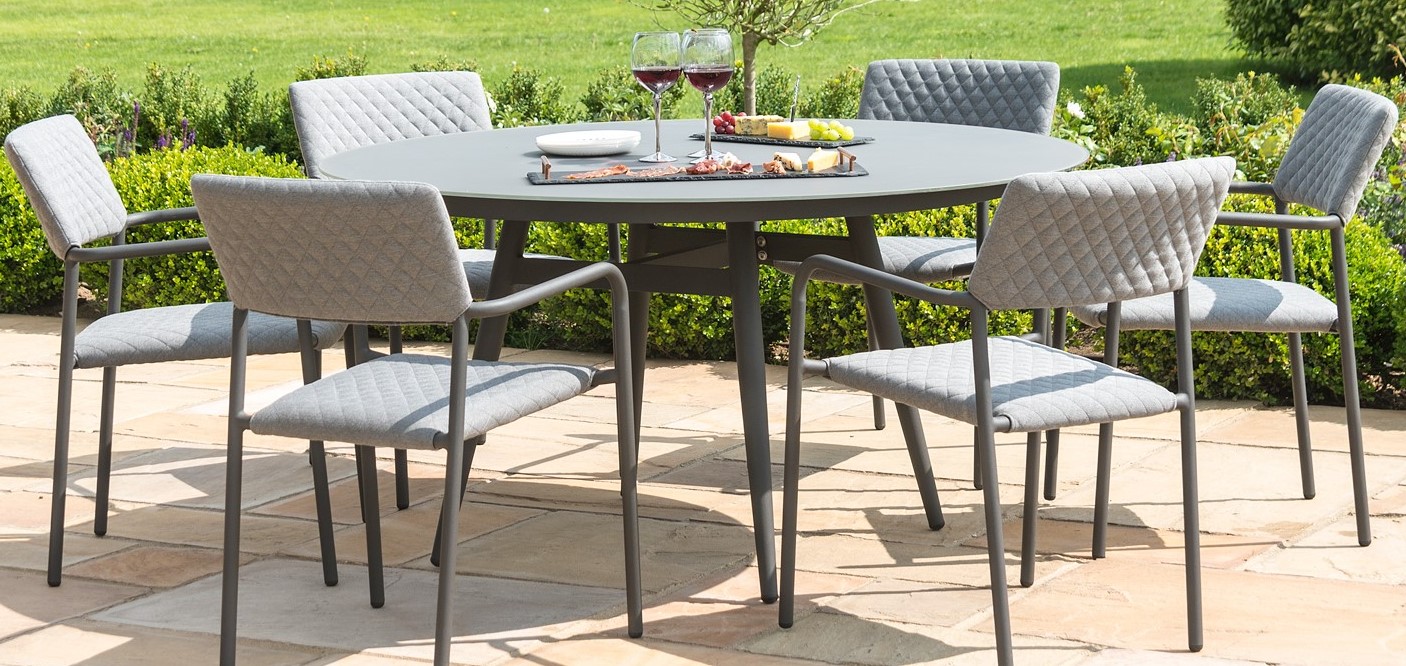 Quality products that will last many hot summers and harsh winters are important to Oak Furniture House. Although all our products are of a high quality and standard, some prefer a metal dining set. Oak Furniture House offers from 2 seat sets, to over 8 seat sets. Whether the garden furniture is for a quiet evening in the garden as a couple or to throw some scenic garden parties, there is an option for everyone.
Our selection of metal sofa sets, enables you to explore a varied choice of designs and styles to sit within your garden.
Designed for intimate gatherings and leisurely get-togethers. Constructed from materials appropriate for outdoor use, alongside study and hardy metal frames, to see through the seasons.
For a homely feel allowing your sofa set to add to your existing ambience outdoors explore the options on the multi optional colours and patterns available from cushion pads, to external trims. Metal sofa sets are great for individuals looking to create an 'outdoors living room' but are looking to invest in a garden set that can withstand adverse weather conditions but without compromising too much space in the garden.
Transform any garden into the luxurious escape you have always dreamed of. All our Fabric Dining sets are beautifully made, stylishly finished and 100% weatherproof, ready to take on the elements.
You should never have to worry about compromising your chosen style, or fitting garden furniture for your garden theme, for practicality and that is exactly what Oak Furniture House believes too!
Regardless of budget, there is always a Fabric Dining Set perfect for the little piece of heaven away from the troubles of the day, enjoying your garden.
Make the most of the spring and summer sunshine when it is here to enjoy.
Nothing is more important than making your space truly yours, and making the most of favourable weather.
Utilising your garden patio or lawn to entertain family and friends, taking time to socialise and eat al fresco you can rest assured the weatherproofing is from the ground up, with solid builds and seems so there is no compromise on comfort either!
At first glance, a fabric sofa set may seem a risky proposition in the UK. With unpredictable weather. However, each fabric sofa set is professionally finished and fully waterproofed to ensure they last all year round, and represent great investment when enjoyed for years to come.
The beauty of choosing a fabric sofa set to add to your existing garden, allows you, your friends or family to relax, wind down and snuggle amongst cushions for absolute comfort!
The build of fabric Sofas at Oak Furniture House are designed and crafted and make it almost impossible to stay away from. You will want to be outside on these fabric sofa sets all year round! We recommend you come see for yourself but don't forget to call ahead so we can make sure you can see what you are looking for!
For an earthier feel to compliment any garden, there is no match for a Dining set made from wood. Rattan is a high quality material that will last for a long time, in any weather. Made using a technique called wicker, the rattan is weaved into shape to create a strong and resilient chair or table. The wicker technique of tightly weaving rattan, or bamboo, has been traced back to use during the Iron Age. As early as 1200-400BC. Some historians believe the method is over 5000 years old, and the word wicker comes from the Scandinavian word "Wika" when translated, it means "bend". It had become a very common method of furniture production in Europe by the 17th century.
The practice of wicker furniture has been refined over the last few thousand years. Rattan is one of the most popular materials used in garden furniture. Rattan is a natural material that comes from palm trees that grow in more tropical regions. Mostly found in the continents of Africa, Asia and Australasia. Rattan is used in handicrafts, the production of furniture, and as a renewable option for building materials. Rattan is an invaluable resource for south East Asia for construction and furniture. Rattan Sofa sets are a perfect solution for quality, style, and being more eco-friendly.
There are so many designs and materials to choose from with regard to our sofa sets. Rattan Sofa sets are great for a timeless design from throughout the ages. Fabric Sofa Sets are an excellent choice for that little added comfort and something a little different for your garden space. The ever popular Metal Sofa Sets are low maintenance and work with a large array of garden designs. One of the most popular and tried and true sets will always be the Wooden Dining Sets. Wood doesn't mean cheap quality, as we use solid oak to give the best quality.
The original building material, wood has been used as a raw material for at least 10,000 years. Some experts believe that wood has been used in production of tools, weapons and construction since before history was recorded. Wood has been an integral material for the evolution of the human race, and was taken for granted for much of recent history. Deforestation has become a real concern so it is important to make sure that wood being used is ethically and sustainably used. By using only top grade wood from sustainable forests.
Being one of the oldest building materials used in human history, wood has become a staple of every household. So it is no surprise that in every household there will be some form of wooden furniture. If dining tables are one of the most common pieces of wooden furniture, then it stands to reason that outdoor wooden dining sets would also be as common. Wooden Dining Sets are very much a popular choice with our customers as it is seen as the more traditional material for use in the garden. From a set for two, to a wooden dining set to accommodate a decent size gathering. There is an option to suit any needs.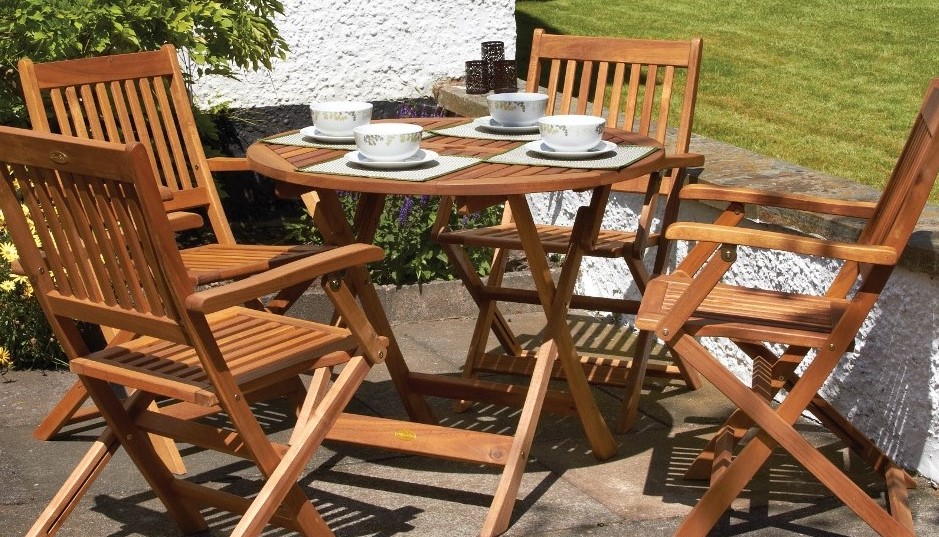 Daybeds are the definition of relaxation. Whether you're reading a book, taking a nap, having a drink or hanging out with friends and family.
Daybeds can be left outside all year and the pillows easily removed and placed in storage for when the weather takes a turn for the worse.
What styles are available?
We have a wide range of shapes and styles at your disposal for daybeds. Loads to choose from and there will always be a style that suits your outdoor space!
For example the Maze Rattan Garden Furniture Bali Grey Daybed is a cube shaped daybed that allows for fresh air whilst still providing a certain amount of shade.
Then you have other options such as the Maze Rattan Garden Furniture Mixed Brown Peach Daybed which is a pod shaped daybed, again allowing for fresh air but also protecting you from the sun if need be!
These sleek styles will add a luxurious feel to any garden and also give you an unprecedented amount of comfort.
Sun loungers are made for you to be able to unwind in your garden. They can be reclinable which serves the purpose of helping you lie down flat if you wish to take a nap or sunbathe, or even sit up if you wish to read a book and have a drink.
Sun loungers are even more perfect if you have a swimming pool in your garden! Allowing you to have a quick dip in the pool and then dry off on the sun lounger.
Some of our sun loungers come equipped with cushions to add that extra feel of comfort.
What styles are available?
Our sun loungers are available in metal, fabric and rattan with a range of colours, cushions and finishes.
The use of metal in furniture is a relatively new idea and was popularised in the 1920s. Steel and aluminium became the canonical materials, steel being a much sturdier material and less prone to rusting and aluminium for its strength to weight ratios. Metal dining sets have become a much more popular idea with the movement of modern art. Metal is seen as more sustainable than plastic and a cleaner looking material that fits in with most neutral home decors. Metal Dining sets are no exception, as they can either be fitted with more conservative decorations or load colours. Depending on what your style is!
Metal is particularly robust engineered material that is manufactured from natural resources. When metals are mixed together they are then classified as alloys which can then be moulded and manipulated into resilient garden furniture, creating long lasting outdoor furniture.
The benefits of metal sofa sets, alongside the obvious sofa for outdoor recreational use, is that metal furniture created from alloys can make a strong, hard-wearing but lightweight garden furniture item, to withstand unfavourable weather and winds
Whether you want to explore your garden furniture options to add to your patio or lawn, and explore an alternative to your current sofa set then we can happily assist you, and guide you through your most suitable metal sofa set options.
The metal sofa sets are available in a wide array of sturdy, heavy set, hardened metal, complemented by design led styles to sit within Mediterranean influenced garden design or modern inner city clean spaces. Each of our metal sofa sets have been crafted to suit all existing garden decorations and make your outdoor living space somewhere you want to spend as much time as possible relaxing or taking enjoyment from your green surroundings.
What is Wrought Iron Furniture?
Popular Mid Century modern designed furniture, seen by most as the classic English garden design. Timeless design still used throughout the classic English flower garden. Wrought iron has been historically used for chairs, tables and sets since the early 19th century.
Italian renaissance gardens heavily influenced the use of iron garden furniture, and the trend for flower gardens involved into the quaint cottage garden style due to added accessibility of exotic plants extending flowering seasons. A metal bench became a key feature in the garden during all seasons
Modern wrought iron furniture is currently manufactured to be both lighter than the original cast iron, and easier to manipulate, weld and bend.
Garden Furniture most likely to be made out of Iron
Fire Pits -
Garden accessory staple in a sociable garden to keep the evening chatter still going. When the air temperature drops and you still want to stay in your garden keeping the evening conversation flowing with your friends or family.
Fire pits not only look both fantastic and romantic if staged with the rest of your garden design, but with the added benefit of practical garden accessories helping to keep you snug next to warming ambers.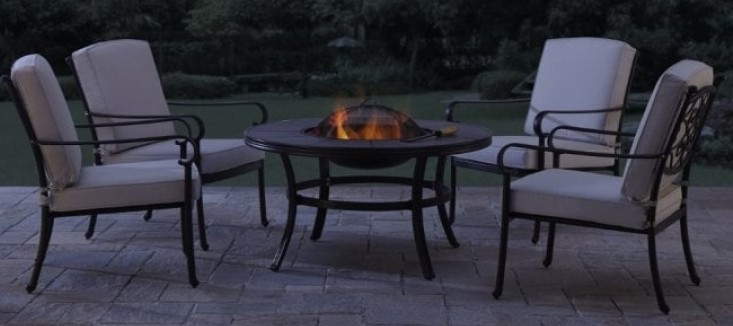 Coolers
Garden Coolers are an ultramodern convenient outdoor accessory for all current gardens, allowing you to place your drinks, such as chilled wine, cold cans or Prosecco enabling their garden beverages to remain lovely and cool, within your outdoor setting.
How long does it take to cool your drinks? Well, the general rule of thumb is that if you place your drinks in the cooler surrounded by ice you're looking at around 10-12 minutes to chill your drinks to a temperature to be enjoyed in the warmth.
For those concerned about waiting this long for a chilled glass of wine If your preferred drinks are submerged in ice with water added, the process can be speeded up somewhat and you could be looking at your refreshments becoming cool within 4-6 minutes.
Looking for a swift cool drink cans take much less time to become cool in comparison to glass bottles as they are better at transferring heat.
Larger bottles, whether your preferred garden drink is a bottle of wine or a soft drink are likely to take slightly longer than this because they have a larger amount of liquid to chill when compared to smaller bottles of wine or spirits.
You're looking at an extended period of around 15-20 minutes before your larger bottle of wine becomes chilled if it is just covered with ice but no water. If you add water to this equation, you can trim this period by around 6-8 minutes.
Garden coolers are perfect for summertime gatherings when the outdoor temperature increases and the summertime weather begins to warm to temperatures over 20 degrees.
With your outdoor ambiance ruined by multiple trips into the kitchen to get drinks out of the fridge consider adding a garden drinks cooler to your current garden accessories to help you make the most of your summer afternoons and evenings.
What are the benefits of a garden drinks cooler?
Look after your guests.
Exploring an option to add a drinks cooler to the garden will help to keep your guests' drinks refreshingly cool when you're having a social gathering, whether that be with friends or family! Leave multiple drinks in the cooler at any one time, so they will be lovely and cool to hand over to guests as soon as they arrive, making your guests feel really welcome as soon as they join you.
Be Lazy, kick back!
It's Ok to take it easy, relax and chill in your garden. How about popping on a BBQ and some music, take the strain out of regular trips indoors for a refill and grab a cool can from your cooler and stay put in the sunshine.
What styles of coolers are available?
Choose from a varied selection of different cooler styles available such as tables and tubs!
Take a look at our popular
Maze Rattan Garden Furniture Ice Bucket Side Table
, a multifunctional cooler designed with an additional shelf that opens for you to place your drinks to cool and when closed, acts as a table. What a fantastic dual-purpose garden accessory. Should you want a more muted tone for your garden consider the cooler in the alternative Tuscany.
What are my options for cooler tubs?
Consider a cooler tub as a fashionable addition to your garden furniture. Both practical for warm days and paramount for cool drinks in the sun. Assembled to help you make the most of a summer party. Explore the benefit of having the option to cool drinks in the garden accompanied by friends and family easily.
Explore your options for outdoor storage, a practical and effective solution that is an essential for most gardens! Outdoor storage furniture items can be utilised by all family members. Whether it is used to put away the children's toys such as a football, bikes, water pistols or garden hoses. They are great for leaving things outside that have no place inside the house.
Who needs to use outdoor storage?
If you are a huge fan of cooking and entertaining outside, outdoor storage units provide the perfect safe haven to store barbeque equipment and garden coolers or side tables.
Weatherproof garden storage boxes will protect and keep your garden furniture out of the elements during wet and windy weather.
Another main reason people invest in garden storage is to extend the lifetime of use for their garden furniture and garden upholstery. For example, if you have a sofa set in the garden and the weather takes a turn for the worse, our outdoor storage compartments can provide shelter for any pillows or blankets that may be part of your 'outdoor living room'. Storage units provide protection and shelter from the rain, keeping your snug items dry and clean ready for your next sunshine break with a book.
Rattan planters are the perfect piece of garden furniture to add that luxurious feel to your outdoor area.
Rattan planters
are used to put your beautiful plants, seasonal bedding and shrubs.
Making use of garden planters and refreshing your selection of plants throughout the season, will brighten up your garden and enable you to relax and enjoy the visiting wildlife.
We recommend considering rattan planters for those with limited space for full garden beds, movable garden planters can prove to provide a handy addition to your patio or lawn if your garden space is lacking for anything larger, or is too small to consider any large garden borders, or if you choose to embrace seasonable shrubs or bedding.
Planters placed around a patio area or wooden decking scheme will give you the opportunity to adapt your planting to a temporary flower scheme to reflect the changing seasons.
The Rattan range is engineered and manufactured from solid weatherproof materials that can last all year round! Subsequently, they can be easily relocated around your garden space should you decide to change the Feng Shui of your garden, it's no problem.
What styles are available?
Rattan planters
are available in an impressive array of shapes, with a large selection of suitable sizes and colours providing you with a wide selection to consider as an addition to your garden design.
Does your garden already have rattan furniture? Explore additional furniture to complement your existing sets and look to include rattan planters.
Garden planters can complete your modern garden scheme with an easy to manoeuvre in sync pot construction to last for many gardening seasons.
Explore an entire set with ranges of staged sizes from smallest to largest set amount the edging of a lawn or patio, to add depth to your garden borders, or place a matching pair onto an edge of a path or driveway.
Rattan garden planters or adaptable with the added benefit of manoeuvrability around your garden throughout the summer.
Choose from a variety of planter size options including tall rattan planter styles most suitable for miniature trees or shrubs, surrounded by annual bedding mixes to be enjoyed throughout the summer. Popping a contemporary set of solar lights into the pot, will provide hours of ambient lighting, long after the sun has set.
Journey through our options for shorter rattan planter styles, suitable for bedding plants or flowers grown seasonally for visual enjoyment. Ideal option for gardeners who still want to view across the patio to the garden beds or lawns.
Consider your existing garden furniture colour scheme, as our rattan planters are available in a mixture of neutral colours and natural pallets ranging from deeper browns and deep charcoal greys, suitable for any modern or leading edge garden designs.
If you are looking to add further garden accessories give thoughts on a suitable garden Parasols with base.
Sun parasols will protect you whilst seated from the worst of the UV risk during high summer months, and benefit your relaxation time by providing shade.
Although a parasol provides a practical solution to sun exposure, it can also help with light winds and British drizzle.
Perfect for when you just want to relax outside in the sun but also want to protect yourself from burning. Sun parasols will allow you to read your book in the garden without a worry in the world. We recommend the use of a parasol base to protect you and your family from any issues or injury should the wind take the parasol whilst you are enjoying your garden.
Cantilever parasols
transform a generic garden set into a chic and ambient environment to entertain, relax and enjoy the hazy days of summer. With the added addition of sun shade from a parasol with a free standing base, further benefits include the smooth function of opening and closing the shade with ease when needed.
Garden safety is improved with a stable based cantilever umbrella, so should you want to reduce the hazard of tripping alongside the pool or whilst walking around the patio, consider cantilever as a serious option.
Which sun parasol size should you consider?
Consider the main use for your sun parasol, are you big into entertaining a large number of guests and have the space for a larger sun umbrella to add to your garden furniture, or is space limited in your garden on a smaller patio.
Measure up your existing garden furniture set, make a decision based on your needs and available space.
There are different size options such as the Signature Weave Garden Furniture Grey Table Parasol which is 3 meters tall and also the Signature Weave Garden Furniture Beige Table Parasol which is 2.5 meters tall.
What styles are available?
In terms of styles, you have table parasols whereby the pole is slim enough to fit through the whole in a garden table. Very much like the tables you would see in a beer garden! This is ideal for when you're having a social gathering and are trying to enjoy some food in the garden whilst wanting cover from the sun or rain.
Another style available is the cantilever parasols which have a loop-like look allowing for shade over your garden sofa set without the parasol being in the way.

Why use garden furniture covers
As robust and well produced your existing garden furniture may seem, taking care and protecting against the cold and wet of British winter, or heavy showers of spring or summer, will ensure your furniture will last as long as possible. Investing in new furniture can be expensive, how can you ensure you make the most of your investment, protect with covers.
Garden furniture covers have been created and manufactured from technical fabrics, engineered to be extremely effective! To keep your furniture as safe as possible from the elements. Varied grades and shapes ensure that the fit of the cover provides a snug and tailor-made solution to damage from the wind or the wet.
Usually made from Heavy duty Teflon-coated Polyester fabric and used to protect your garden furniture from all weather conditions such as the sun, frost or rain.
If you have invested in a luxurious piece of garden furniture, whether it be a garden sofa set, a bbq, a dining set, a parasol or anything else, these can all be damaged by bad weather. That's why it is important to conserve the longevity of your garden furniture by ensuring that they do not get damaged.
There are garden furniture covers for the majority of garden furniture pieces so not to worry!
Gazebos
Gazebos, much like parasols are a marvellous product that is suited for all types of occasions. Gazebos provide a large area of cover whilst standing on four legs.
The ideal situation whereby a gazebo could be used is if you're trying to relax on your garden sofa set or day lounger and want protection from the rain or sun.
Gazebos are also great for gatherings that involve both family and friends because they are tall enough for people to stand up under them and move around whilst socializing.
All of our gazebos are at least 3 meters tall and have aluminium frames that are sturdy for windy conditions.
OUTDOOR LIVING
Fire pits
Fire pits are essential to most gardens as they provide a source of heat that can be used for multiple things. As well as looking lavish, they can help to create a romantic atmosphere whilst sitting outside during the evening or night. During summer days there won't be much need for the fire pits due to the warm weather, but as soon as it starts to get dark, you may begin to feel the chills. That's where the use of fire pits comes in allowing you to extend your stay in the garden without having to worry about temperature. In regards to being practical, you can actually use some of our fire pits as a grill! Fantastic for a makeshift barbeque.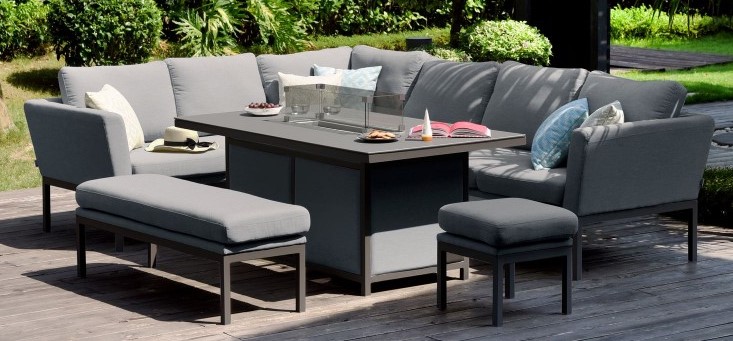 What styles are available?
In terms of styles, there is a huge range to choose from. You could have an individual fire pit such as the Lifestyle Garden Furniture Signa Fire pit or one that is built into a garden dining or sofa set like the Maze Lounge Outdoor Fabric Fuzion Charcoal Sofa Cube Set with Fire Pit.
There are some really modern looking fire pits such as the Lifestyle Garden Furniture Adena MGO Round Fire pit as well classic old school styles like the Lifestyle Garden Furniture Prestige Fire pit.
Patio Heaters
Patio heaters, much like fire pits are a great piece of garden furniture to have in your outdoor space as they allow you to stretch out those summer nights when you just don't want to come back inside but the temperature starts to drop. They are adaptable because they allow you to adjust the heat which caters for all kinds of temperatures.
There are table top patio heaters available for occasions when you might be having a dinner party in your garden, allowing you to heat up a smaller space. The alternative options you have are the taller versions as these are perfect for heating up a larger area. Therefore you could place a taller patio heater in the corner of your garden sofa set and the whole space would become toasty.
An example of the table top patio heater is the Lifestyle Chantico 3kw Table Top Heater. You can see that this product is only 89cm tall so it's the perfect size to sit on top of your garden table or dining set.
In terms of the taller patio heaters, the Maze Rattan Garden Furniture Brown Gas Patio Heater has a really classic luxurious look to it. It is also over 2 meters tall! The ideal height to sit in the corner and heat up your whole outdoor space.
BBQs
Barbeques are what everyone thinks of as soon as summer is around the corner. Nothing beats getting together with friends and family whilst having some home cooked food from the barbeque in your outside space with a few drinks.
We have two options in terms of barbeques. Charcoal BBQs and also Gas BBQs. But what's the difference between them both?
Barbeques are mainly used for three different types of cooking.
For cooking foods such as steaks whereby you would place the meat straight above the heat source. This is called high heat direct radiation cooking.
If you were looking to roast a whole chicken, you would be better off using indirect heat convection roasting. This is whereby the heat is coming from the side rather than straight underneath and the food is cooked from the surrounding heat in the air.
Smoked ribs are another popular choice for barbeques and the way you would do this is similar to the above indirect heat method although the smoke would be flavoured.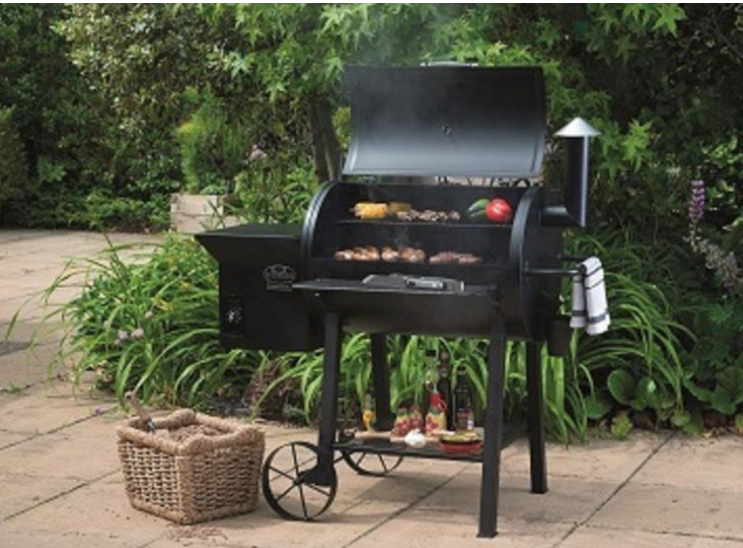 Charcoal BBQs are best used for smoked foods because when the fat, protein or water drips off the food, it hits the charcoal and creates a vapour which then smokes upwards back into the food.
Most gas grills cover the area below where the fats, water or protein would drip onto and the heat from them just radiates.
An example of one of our Charcoal BBQs is the Lifestyle 22" Kettle Charcoal BBQ Grill. A simple yet classic product, perfect for summer.
Regarding Gas BBQ's, the Lifestyle Dominica 5+1 Burner Gas BBQ is the ideal product for when you're looking to play host!
Lovers of outdoor space
Spending time in your garden improves mood, wellbeing and aids in relaxation after a busy day. Starting your day with a hot coffee enjoying your much loved garden and admiring the wildlife that visits brings a chilled start to your day as you gather your thoughts for the day ahead. For avid readers sunshine and flowers set the perfect backdrop as you absorb your current book. Spending too much time in the sun is never good for anyone, so remember to consider a sun parasol, especially during the heat of the day to provide some shade.
Gardens for a welcome place to rest
The exhausting task of digging beds, weeding and carrying garden waste around your back garden needs to be broken up by a little sit down. Garden furniture provides a solution for you to sip your tea and enjoy all of your hard work. Once high summer kicks in taking time out on your garden sun lounger along a little sunshine nap lifts the spirit.
Social Butterflies
If you enjoy the company of friends and family, and love a good get together, large garden furniture, and garden corner sets are needed to provide a space for your guest to relax and mingle. When the evening draws in and the conversation is still flowing, light the fire pit and talk into the night.
Adding a swinging seat or hanging chair to the garden scheme will bring fun and people together, and for those less inclined to spend all their time in the company of others, they can slink off and relax for some space away from the crowds.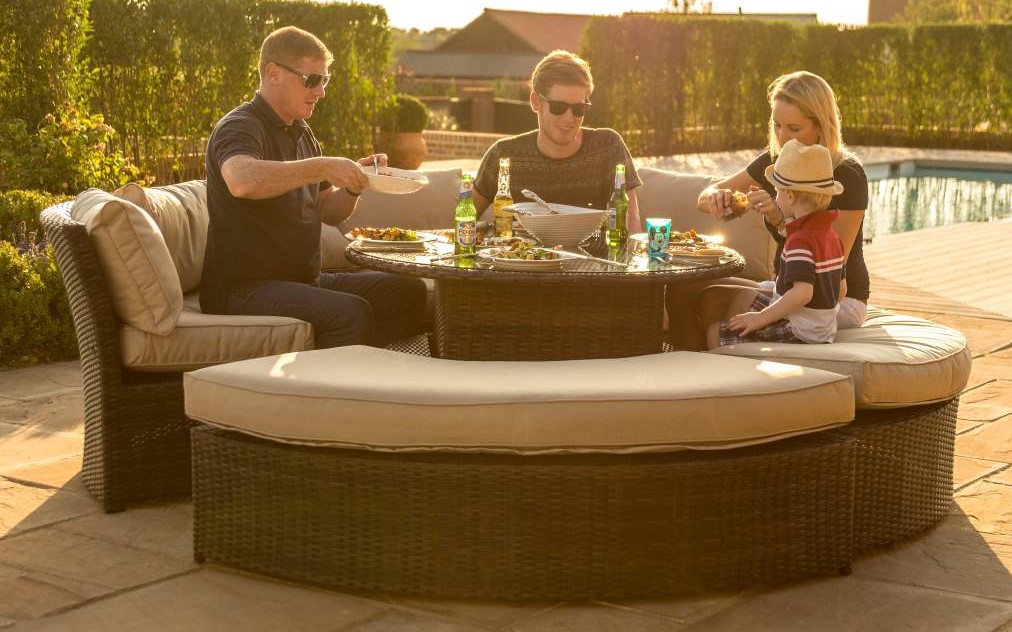 Foodies who love to cook outdoors
Who doesn't love a good BBQ right? warm summer afternoons and spending the entire day outside provides a perfect opportunity for Al fresco dining.
Al fresco dining, notoriously popular amongst Mediterranean families, has now been adopted in cooler climates in the UK as our summers warm up.
Starting up a BBQ or outdoor grill to practice your culinary skills whilst eating with family or friends is a growing trend.
With the additional added benefits of science which suggests that healthy eating is more likely to take place in a garden setting.
Others considerations to be made before your purchase your next set of garden furniture.
Consider Quality of design and build of furniture
Consider your available patio space, and how this would impact your current garden scheme. Make sure you measure the decking or surrounding space and consider how much room you actually have to play with and look to choose the correct piece of garden furniture to complement your available space.
Materials used for your chosen garden furniture
Consider choosing materials that represent value for money and can be used for many years within your garden or patio area.
Garden furniture construction
Review the garden furniture construction such as joins and trims, and also how you may wish to shelter or store your outside furniture sets during the wet and damp winter months.
Consider where to place your outdoor furniture
Also consider positioning if the garden furniture is in direct sun for a number of months during the peak of summer, as the light may fade the darker trims or colours of the materials or paint.
How do you use your space within your garden, is it to relax with a large family, or would smaller more intimate garden furniture sets be better for your needs and available free garden area.
British Summer Time (BST)
Here in the UK when the clocks spring forward as the start of British summer time begins. Garden and outdoor lovers start to look forward to the lighter evenings and time spent in their gardens. The practical importance of garden furniture allows you to expand your home out into the garden.
British Summer Time Dates
| | |
| --- | --- |
| 2020 - | 29 March to 25 October |
| 2021 - | 28 March to 31 October |

The northern hemisphere experiences shorter summers so we make the most of it, by getting out into the garden, eating outdoors and planning summer parties and BBQ's
For most the British summertime is an opportunity to enjoy outdoor living, kick back and relax and make the most of our long hazy evenings.
Entertainment of family and friends.
Using your garden and outdoor furniture as a focal area of social gatherings, family events, or entertainment of friends and family is key to most outside living. With the use of garden accessories such as fire pits, sun parasols, patio heaters and BBQs your garden can allow your home the extra outdoor space to fully entertain.
Garden Celebrations
Looking to celebrate a birthday, anniversary, or engagement in your garden, exploring your options on large corner dining sets or garden sofas will enable you all to come together, celebrate together and connect in the sunshine. For when the day turns into night, use of patio heaters can keep the evening going by adding some additional warmth to a chilly evening.
Quality Family Time
Our lives are more demanding than ever, with the hamster wheel of work, the commute and school runs or after school clubs taking up huge chunks of our week. Taking time out to spend with your family is most important. With a large family you need a garden furniture set that can allow you all to sit together, eat together and enjoy quality time. Consider metal corner dining sets or day beds or sun loungers, to bring the entire family together.
National Garden Schemes
Perhaps you have worked on your garden all year, and have decided to take part in the National Garden Scheme, allowing visitors to come and enjoy your garden, and take a well needed rest by sitting near your flower bed or planters, your choice of garden furniture from rattan sofas to relax. Swinging seats and hanging chairs can add character to any modern gardening scheme.
Construction to contend with the weather outside, for all seasons, differing from indoor home furniture.
Outdoor cooking and dining
As el fresco dining continues to gain popularity. Using an outdoor BBQ or Pizza oven to cook in your own garden is a deepening trend amongst households. Making the most of your garden whilst conversation is flowing late into the evening is the one of the most enjoyable experiences to look forward to on a summer evening.
What are the benefits of Garden Furniture?
Physical benefits to sitting outside
One of the many benefits of garden furniture is that it allows you to get fresh air and concentrate on your own wellbeing. Fresh air has been known to help digest food more productively, better your blood pressure and heart rate, and bolster the immune system, leading to a healthier you.
Mental benefits to sitting outside
Studies have shown that 88% of people think mental wellbeing is an important factor that comes from time spent in the garden. Being outside has been proven to boost alertness, subdue fatigue and reduce impulsive behaviour and aggression.
Astoundingly, a survey found that natural surroundings had such an impact on mental health that there was 50% less crime and domestic violence in families with views of vegetation in comparison to families without these views, when living in the same kinds of housing blocks.
Time spent outside your house and in the garden has also been related to reduced levels of agitation and increased motivation with people that suffer from Dementia. Bird watching and admiring wildlife is a favoured activity for people that have to deal with this disease.
Family and Socializing
When spending time with the family, it can be nice to change the scenery and sit outside for a while. Whether you're having a relaxing drink or playing games. Especially if the weather is great! An outdoor game of charades can be played with the guessing team sitting on a beautiful garden bench. Garden benches also allow for the adults and parents to sit and talk whilst the kids are running around the garden playing.
Garden tables are great for when you've got family round and also for eating food from the barbeque during summer days. One of the most popular things to do in the UK when the weather is nice is go to a pub and sit in a beer garden. Why not create your own at home? All you need is a beautiful garden table and then you're set! Invite your friends and family over and there you have it. The perfect day without having to leave your own home.
Alone time and relaxing
As much as we all enjoy spending time outside in the garden with our family and friends, it is also extremely important to spend time outside in the garden on your own. This will allow you to reflect on your day, plan ahead, take a deep breath and calm down if something has agitated you and just generally relax. This is why having garden furniture such as a Maze Rattan Garden Furniture Mixed Brown Peach Daybed is essential.
Adaptable Furniture
Some might think that sitting in your garden is only doable when it's summer due to the warm weather. Little do they know that garden furniture can accommodate for all of the seasons! Fire Pits and Patio heaters are there to save you from cold weather. Whilst Parasols and Bases along with Gazebos can protect you from the rain. Perfect for all year round. This is what makes garden furniture so adaptable in comparison to indoor furniture.
Gardeners
Let's take a moment to think about those who have a passion for gardening. Having some furniture to sit on and admire their work is likely to be very appealing. All those hours spent covered in soil, on your knees pulling weeds out the ground and so forth, made worth it by a piece of sleek furniture that allows them to relax in the morning with their coffee admiring the beautiful flower borders, or exotic planting areas that they have grown.
Working from home
There is a large amount of people that work from home in this day and age. Especially with how far technology has come and what we are actually able to do from just using the internet. Whether that requires a makeshift office or just taking your laptop around with you everywhere you go. If you have garden furniture, you can do this outside in the fresh air whilst getting that all important Vitamin D. Being inside for the whole day actually allows you to miss a lot with the sun (which is a vital source of Vitamin D) being at the very top of that list. It is a basic human instinct to require shelter but staying indoors for too long is an easy way to fuel anxiety. Even just working outside in the morning for a minimum of 45 minutes gets your body out of sleep mode and ready for the day.
Mental well being
Above we have talked about the benefits of garden furniture and how sitting outside can have positive effects both mentally and physically, how it's great for gardeners to sit and admire the work they've done, how it's great for family and socializing, how it can be used whilst working from home and just in general how they can really benefit you. But we haven't even mentioned the simplest benefit of garden furniture yet and that is that it just makes the garden look so good. Garden furniture is the last missing piece to completing the look of a fresh beautiful garden. Whether it's just a garden bench, a garden table, a patio heater, fire pit, gazebo or whatever you might have, a sleek piece of garden furniture is all you need to top it all off.
Let's explore the options on the materials used to make garden furniture
How is metal garden furniture made?
Garden furniture sets are generally metal cast made. Build to last with a level of robustness that will ensure your investment is made to last. Metal benches and metal corner sofas will become a focal point for gatherings or relaxation in any garden setting.
Metal welding is the main way of manufacture as it's easy to weld, bend and create the many designs seen in garden design, alongside hanging chairs, built for strength and resilience to weight loads.
Why metal garden furniture is so strong.
With metal garden furniture, the strength to the bolts and joins are one of the strongest available. Consider exploring your options on metal dining sets if you are going to be entertaining guests in your garden.
How does metal garden furniture withstand the weather?
Garden weather should influence your decision on your garden furniture choice. Gardens that have a large amount of exposure to the wind during a storm, will need furniture that cannot be easily lifted or turned over, should the wind become too fierce to contend with. Metal outdoor furniture will be heavier and therefore more likely to stay within its place, not causing destruction to other areas of your garden, or worst still windows.
Wooden garden sets
From the ever-popular wooden garden bench to the wooden garden table and chairs, wooden garden furniture is a feature across UK gardens.
The many different types of wooden garden furniture
Teak wood
Where does Teak wood come from?
Farmed from the hardwood tree found in tropical regions, the tree can be found in south and Southeast Asia, India.
A Tectona grandis tree takes on average 80 years to mature before it can be harvested for the teak wood.
Why is teak garden furniture admired?
Loved for the golden tones and medium brown finish for the wood this is a popular choice for wooden garden furniture, with the added benefit of the colour becoming darker over time as it ages, giving the furniture piece character and distinction over paler woods that might not look so good after weathering. Teak wood furniture will become an elegant silver-grey over time if left untreated.
Oil can be used to increase the longevity of the teak wood furniture during its lifetime outside, and increase the warm golden glow of the wood.
Durability
As teak wood is so strong, furniture designers often favour this chosen wood for garden furniture design, as it allows them to work with a strong base, as teak belongs to a family of hardwoods , offering a lifetime of use against less than ideal weather conditions once treated.
Using oils and rubber coatings allow garden furniture designers to work with teak wood that is less likely to rot causing a collapse of a frame and ending the life of the garden furniture.
Synthetic Rattan Garden Furniture
A fantastic alternative to natural rattan as it will withstand large volumes of use and due to its synthetic manufacture it performs incredibly well in adverse weather.
How is synthetic rattan garden furniture made?
Synthetic Rattan wicker garden furniture is produced through a weaving process. The synthetic thread is woven around the frame and external skeleton of the furniture to create a refined finish and contemporary design. Once the weave has been correctly placed a number of industrial staples are used to keep the fabric to the frame.
Benefits of synthetic rattan
As the synthetic rattan is artificially made and weaved, the longevity of the garden furniture is unmatched, it is also fully waterproof against the wet English summers or spring rains.
UV treated Polyester
Synthetic wicker or rattan blends (waterproof) - Wicker made from palm stems farmed from many tropical regions around the world
Everyone wants their garden to look nice and having some pieces of sleek garden furniture is a fantastic way to add that luxurious feel to your outdoor space. However, these sleek pieces of garden furniture do need to be looked after and cleaned. Otherwise they could become damaged or start to look worn out and you may then need to replace them.
How do I clean my Wooden Garden Furniture?
Wooden garden furniture can look so classy because it is fitting to its natural surroundings. However, they will need some tender loving and care to maintain that classy look. One way that you can help these wooden garden furniture pieces to stay clean is to use a warm solution of sugar soap and a scrubbing brush. For any areas that are a bit harder to clean, you should leave the sugar soap solution on for a few minutes before getting rid of it with a scrubbing brush. The next step is to rinse off the solution using a hose.
Using a pressure washer is definitely a bad idea as it can be too overwhelming for the wood and may strip off some of the material. You may not realise this until the wood has dried.
How do I clean my Metal Garden Furniture?
The problem that appears most often with metal garden furniture is rusting or oxidation. Before you start the process of cleaning, it is best to prepare the area by removing as much of the rust or dirt as possible by using a metal polishing paste or a mix of white vinegar and water.
It is best to stay away from solutions like ammonia and trisodium phosphate (TSP); alkaline cleaners can be a cause of oxidation. Another piece of advice is to use a hose to wash down the aluminium regularly to keep its natural lustre.
To get rid of any scratch marks, it is best to use a soft cloth dampened with a nonabrasive product.
How can I prevent my Garden Furniture from getting dirty in the first place?
It makes sense to try and prevent your garden furniture from getting dirty first rather than letting it happen and then having to spend time cleaning it. It is very likely that your garden furniture will need cleaning at some point one way or another but there are some simple ways of prolonging the cleaning process.
Garden Covers are an easy way to keep furniture dry and free from dirt or moss. However, they must be waterproof and of good quality if they are to be protecting your garden furniture throughout the cold, wet winter months. This will also save you moving the furniture inside every time the weather starts to worsen. Moving furniture inside may not even be an option for some as they may lack the storage space.
For those who lack storage space, investing in deconstructable garden furniture could be an easy way to help maintain the cleanliness and quality of fabric and finishes without having to invest in garden covers.
All considerations need to be made when you are exploring your garden furniture for use at home with the British climate and changing seasons.
Fabric covered Garden furniture should be UV protected (from strong summer sun) and constant exposure to UV rays for 4 months of the year.
Woods Non treated wood can easily warp and distort in damp and relentless rain, and on the other angle of exposure you can expect treated wood to split in the excessive heat.
Non Treated Metals - Garden furniture built from porous metals will weather whilst exposed to wind, rain, and hot temperatures, and the extremities of corrosion will be seen as the garden furniture oxidizes. Look for a powder coated finish to create a resistance to the weather and minimise surface damage from oxidation.
Plastics - unrivalled water resistance, but may be prone also to UV exposure, in bright sunlight and has the potential to fade significantly when exposed for multiple seasons. Light enough for easy movement and positioning around your garden or patio landscape.
Aluminium - Garden furniture manufactured from cast aluminium will ensure your furniture will remain rust free if exposed to wind and rain.
Patio heaters to extend the time spend in the garden during cooler nights, meeting with
Oak Furniture House is the UK's primary supplier of Garden furniture.
We are a Family Run Business
Business originally began on a very small scale back in 2006 when the Director and his family started doing business out of a small container in Didcot. Things significantly accelerated in 2008 when the business started to boom. Especially with the website being launched in 2010.
To this day, Oak Furniture House is still a thriving family-run business and is continuing from strength to strength. In October of 2015 we opened our first showroom, in a different building but still in Didcot, Oxfordshire. This showroom allows for our clients to take a look at some of our most popular ranges in the flesh.
The quality of our products
Oak Furniture House has a huge selection of Garden Furniture ranging from Corner, Dining Sets, Classing Dining Sets, Sofa Sets, Daybeds and Loungers amongst outdoor living accessories.
Take a look at what our customers say
Our customers love our products and service take a look at all of our positive independent reviews on Trustpilot at;
Unrivaled Customer service and outstanding delivery
Our customer service at Oak Furniture House is exceptional.
Our entire team is passionate about our products, and always here to help.