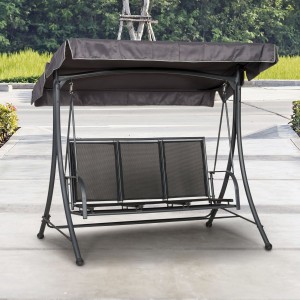 Royalcraft Metal Garden Furniture Sorrento Black 3 Seat Swing Hammock Contemporary and comfortabl..
Was
£501.79
(inc. VAT)
From
Now
£385.99
(inc. VAT)
£321.66
(ex. VAT)
In stock: available now
Standard Delivery: 22nd December 2023 - 5th January 2024
0% Finance Available from Klarna
Garden swinging seats & hanging chairs
If you're looking to truly relax during those long hot lazy summer days, then a garden swinging seat or hanging chair is an absolute must. These iconic garden chairs maximise comfort and turn on the classic style, to help you transform your garden into a retreat.
If you're kicking back and taking time out for yourself, then a swinging seat or garden hanging chair can be the perfect option.
Relax in your garden in style
Swinging seats and hanging chairs for your garden put the emphasis firmly on relaxation. Garden swinging seats allow you to relax and socialise and come in a range of style options from contemporary to rustic.
They're perfect for lazy days in the garden. Alternatively, why not opt for an iconic hanging egg chair for the ultimate in laid-back garden style. As well as looking great, they really turn up the dial on comfort.
Whether you're looking for a new garden centrepiece or want to create hidden corners to get away from it all, a garden swinging seat or hanging chair is a perfect choice.
Garden hanging chairs are available in single or two-seater options, creating the ideal place to get away from it all.
High-quality materials and a range of style options
Garden furniture needs to be robust if it's to cope and retain its good looks whatever the weather. High-quality contemporary garden furniture combines classic good looks, outstanding style and high-quality materials. Whether constructed from wood, metal or rattan, garden swinging seats and hanging chairs need to be strong and durable without compromising on style.
Rattan, in particular, is a popular choice when it comes to garden furniture. As a completely natural material, it has a warm, classic appearance that adds a touch of style and sophistication to your garden. It's also a tough material and is highly durable. It won't fade or bleach in direct sunlight.
Water-resistant cushions not only make your garden hanging chair comfortable for longer, but they also won't deteriorate. In fact, rattan garden furniture is low maintenance making it the perfect combination of classic style and convenience.
Whether you opt for a single or two-seater garden hanging chair, you can be confident that they're strong enough to cope with garden wear and tear and whatever the weather throws at them.
An outstanding range of garden swing seats and hanging chairs
At Oak Furniture House, we have put together a stunning range of swinging seats and hanging chairs from some of the world's top manufacturers. Every item in our range has been carefully selected to ensure it's of the highest quality.
It's easy to order and our experienced delivery team always ensures that your garden furniture reaches you as safely and quickly as possible. With our outstanding customer service and with 0% finance available, we make it simple to find the perfect garden swing seat or hanging chair for your garden.
Take a look at our range and find your perfect garden swinging seat or hanging chair today.