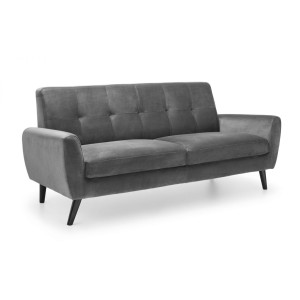 Julian Bowen Monza Furniture Dark Grey Velvet 3 Seater Sofa The beauteously designed Monza 3&n..
Was
£858.00
(inc. VAT)
From
Now
£550.00
(inc. VAT)
£458.33
(ex. VAT)
Pre-order: More due 28th August 2022
0% Finance Available from V12
Oak furniture house is leading online suppliers of affordable oak furniture. Our customers return time and time again for our extensive range of Oak sofas, Oak Sofa Tables, Oakwood sofa, and the varied selection of recliners, Corner Sofas, Sofa beds and armchairs.
The large modern selection includes fabric sofas, fabric recliners, fabric sofa beds and fabric armchairs.
Why would someone buy oak sofas & armchairs for their living room?
Refresh your home with fabric sofas, fabric recliners and leather armchairs.
Sophisticated modern interiors such as living rooms and bedrooms can be accentuated with the addition of a pale grey sofa combined with an oak floor, this combination of fabric, wood and leather combines for classic elegance, and brings about a calm ambience to your home.
For a contemporary sofa choice, the Besp-Oak Contemporary Sofas Bardot Armen 2-Seater Sofa is a popular fabric sofa married with the Oakwood trims for a clean and stylish addition to your home, paired with an oak sofa table this fabric sofa piece will feel right at home in any living room.
What oak sofa & armchair colours are available?
An extensive range includes pastels and muted tones to work perfectly with clean home interior designs, alongside deeper colours for a more theatrical statement within the home.
Fabric Sofas
Includes modern fabric ranges such as fabric pink sofas and soft grey fabric sofas such as the Anneliese Furniture Grey Velvet Right Facing Chaise Sofa, all designed with light colours to fit matching serene interior walls and accessories.
For homes looking to add a statement piece with a little interior drama manufactured in deep bold colours, fabric sofas include Alegra Furniture Green Plush Fabric 3 Seater Sofa and the Besp-Oak Contemporary Sofas Fitzgerald Piccolo-Bayou 2-Seater Sofa.
For those looking for classic elegance that can be paired with cream and champagne walls for a calm and homely atmosphere within your living space, fabric sofas ranges include the Besp-Oak Contemporary Sofas Harlow Tufted 3-Seater Sofa and the Loire Painted Furniture Mahogany and White Fabric Armchair.
The addition of a fabric armchair and leather recliner to a living room space adds to the gentrification of a modern living room or bedroom.
Adding Oak furniture and fabric armchairs to your hallway such as the Vida Living Katell Fabric Rocking Chair Mustard help create a welcoming space as soon as you enter your home.
How an oak sofa or fabric armchair can give a nice aesthetic to your living room, or bedroom.
Accent sofa chairs and leather reclining armchairs bring a theme into the room and are designed for maximum comfort.
Entertainment rooms within the house, are a perfect space to introduce a fabric reclining chair and reclining sofa set. Such as the Vida Living Eason Grey 1 Seater Recliner Armchair and the reclining fabric sofa sets Vida Living Darwin Biscuit 3 Seater Recliner Sofa & Armchair Set will enable comfortable film watching with darker fabrics helping to create an ambience and depth to your living space, available in both 2 seater and 3 seater options.
Living Room Furniture FAQs